The 106 trimmer can deal late vineyard processing with an eccellent quality of work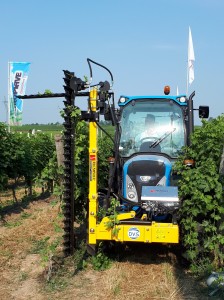 Although highly evolved than the starting model, this machine maintains all the key feature of the successful initial project born in 1991.
The tooth-blade system, without bladeholders that doesn't require maintenance, made by the qualified German company Schumacher chosen at the debut has never been abandoned for its extraordinary robustness, versatility, absence of bladeholders, cutting quality even in the presence of lignified vegetation, making this trimmer suitable to work even for dry pre-pruning. For these characteristics, the 106 trimmer can deal late processing with a quality of work unknown to rotary machines.
The chassis of this machine, in the original design of 1991 provided with a low control of movements, focusing all the carpentry parts of the hydraulic movements in the lower area of the machine next to the attack on the nose of the tractor, hidden by the hood, and therefore allowing a great visibility for the operator.
This solution, totally new and in contrast to his appearance, has made school and was later adopted by a large part of the current manufacturers of trimming machines as proof of the goodness of this innovative technical intuition.
This is another demonstration that Giancarlo Spezia never wanted to replicate the existing but has always focused its projects to the analysis of problems and to solve them in the most rational and innovative way, without the fear of the risks involved in being innovators.
Technical Features:
Hydraulic movements: 3 + Topping
Cutting bars height (mt): 1,65 – 1,80 – 1,95 – 3,00 (for orchards)
Topping length (mt): 0,85 optional
Electro-hydraulic controls: optional
Photo gallery