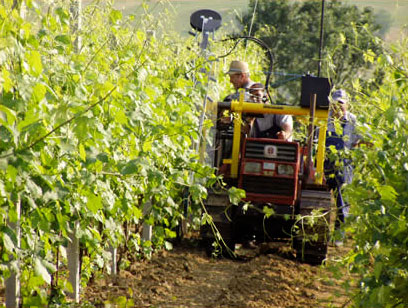 This machine delicately lifts falling shoots falling towards the center of the row, gathering and bounding them to the row structure. One can operate on a single side of the row (the right one). The binding is done with polypropylene (or other type) twine, tied in advance to the head stake of the vine. The tension of the twine can be adjusted. At the end of the row the twine is cut and tied to the head stake.There can be one or two twines (with adjustable distance between them).
The part of the machine intended for lifting and gathering the shoots is mounted in a frontal location. It is equipped with several hydraulic movements to allow perfect gathering to the espalier even in the most difficult hill operation conditions. A rear platform is mounted on the three-point attachment of the hoister where a second operator, in addition to the tractor operator, attaches the twine delivered by the machine that is holding the shoots on the iron wires of the structure of the row.
Tying can be done with a pneumatic tying tool fueled by an auxiliary compressor or by an electric tying tool (Pellenc AP 25).
The operating capacity is around 7 hours/ha.
Photo Gallery of the Binder