The "SCHIUMONE" (Big Foam) is a new and promising project for a more environmentally respectful agriculture. The hot foam, which is generated by our machine, during its deposition on the ground above 70°C causes the denaturation of the proteins in the blades of grass, with subsequent drying within a few days. The benefits lie in the respect for the environment, in the working speed and in the cost-effectiveness compared to the known alternative ecological systems.
Awarded at the International Agricultural Machinery Exhibition in Bologna in 2016 with the double recognition of technical innovation and the Blue award for being environmentally friendly, the machine is still in a phase of engineering and improvement.
The development of this completely original and patented new technology has indeed placed many unexpected obstacles on our path which have slowed down the progress, obstacles that we are overcoming one at a time.
In the recent tests ran in April 2018 our latest vineyard prototype gave excellent and very promising results on the suckers.
You can see in the photos the distribution methods and the results obtained. The development must however be complete before being able to proceed in public demonstrations, which we hope to be able to run this vegetative season.
"SCHIUMONE" points of strength are:
– Speed of advancement, current goal is 4 km/h for full row of vineyard, but it's not excluded to raise these limits in the future. This feature makes the biggest economic difference with all the alternative systems, very limited in the speed of advancement and consequently more expensive due the greater use of more man-tractor hours and even more disadvantaged in the timing of the intervention.
– Reduced quantity of water required, equal to about 0,30 liters per square meter treated. This also reduce costs for the water heating.
– Possibility of using both 100% biodegradable foam and also bio-based foaming agents without added chemical compounds. This will allow to face the weed control process in an environmentally responsible way for companies in an organic farming regime.

Video of Ecological thermal weeding system with hot foam in working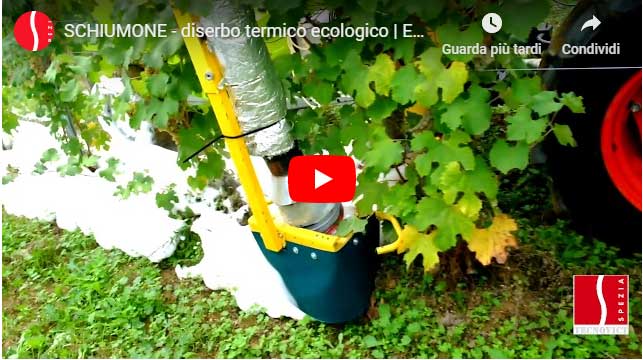 They said about us … (click to read)