This trimmer cuts the vineyard vegetation with efficiency even at very high forward speed of the tractor and in presence of tender vegetation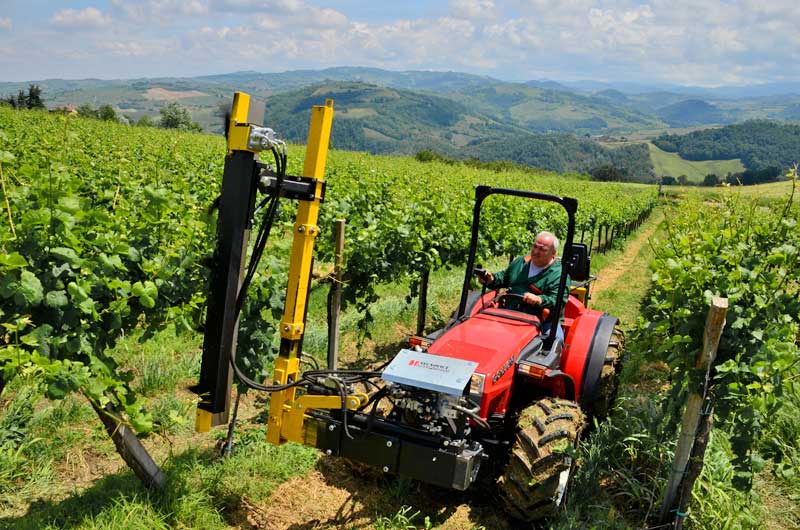 Since the second half of the '90s, our company was among the first in Italy to experiment the design of a machine with high-speed blades. The blades are brought to a speed of 3000 revolution per minute and even in absence of a fixed reference, they are able to cut with efficiency even when the forward speed of the tractor is very high. It ensures a good quality cut especially in the presence of tender vegetation.
It has inherited the lucky frame of the trimmer machine mod. 106 that since the original project of 1991 is provided with a low control of movements, focusing all carpentry parts of the hydraulic movements in the low area next to the attack on the nose of the tractor, hidden by the hood and thus allowing a great visibility on the operator's side. The electro-hydraulic controls are standard and an independent hydraulic unit with heat exchanger is recommended.
Technical Features
Working Height: 1,65 m. (5 blades) or 2,00 m. (6 blades)
Topping: 0,75 m. (2 blades)
Hydraulic flow required: from 20 to 35 l/min
Weight: 138 Kg
Vertical displacement: 500 mm
Lateral displacement: 300 mm
Transverse orientation with respect to the advancement: +/- 35°
Electro-Hydraulic controls: standard
Independent Hydraulic unit: optional
Conveyor for falling sprouts: optional
Photo Gallery